At Fun In Jerusalem we are privileged to work with some truly amazing & inspiring people!
In honor of International Women's Day, we want to celebrate a few of the incredible women, from all over the world, who have founded their own businesses and are helping to shape the tourist industry in-and-around Jerusalem.
These women have all learnt the art of juggling their work-life balance.  They're all innovators, driven by a desire to succeed, with a passion for what they do.  Some were born here, others have chosen to make Israel their home.  They all have one thing in common: a commitment to ensuring that everyone they meet has a unique experience and loads of FUN!
Mandy Broder (originally from the UK) 
Mandy and her husband Jeremy opened The Workshop Gush Etzion in 2016, guiding visitors in the art of making beautiful pieces of functional Judaica out of wood. They've put their heart and souls into building and running the business ever since.
"Being a wife and mother impacts every part of my work. I liaise with potential clients in a way that I would want others to respond to me if I were searching for an activity for my family. That means that when people eventually arrive for the session they are not strangers – we've communicated and discussed options and it always feels good to finally put a face to each name. The relaxed atmosphere during each session allows us to chat to everyone as they work on their projects and by the time they leave they feel like new friends. Spending time at work is never a chore. I'm blessed to love what I do and enjoy every aspect of my work.
When our kids were all living at home, although they were quite independent, I always felt guilty working long hours. I learned to be extremely productive every day.  This is our first year as empty-nesters. Now that the kids are no longer at home, I'm less stressed about leaving work early each evening, which means I can get everything I need done without the pressure I felt years ago."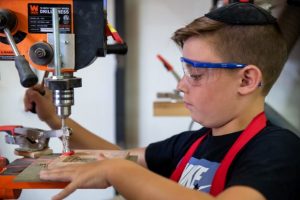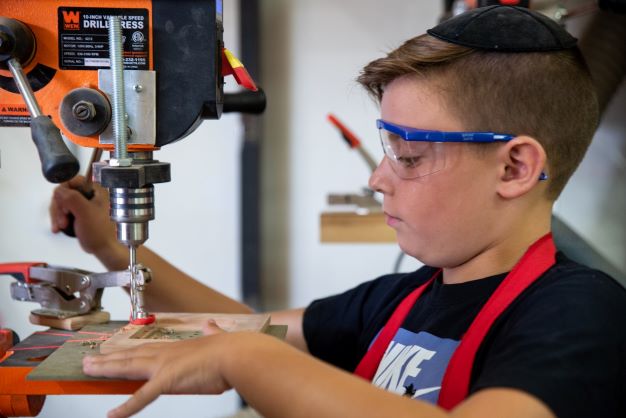 Shelley Brinn (originally from the USA)
Shelley made aliyah from the USA in 1985, with her husband David and lived in Jerusalem for eight years before moving to Ma'ale Adumim.  They have four children and one grandchild. In 2014,  she co-founded Tour Adumim, which provides unique, customized tours and programming for groups of all ages, budgets and interests.
"After living in the Adumim region for over 20 years, I decided that the time had come to reveal the secret hidden treasures in this magical area.  The place is packed with amazing activities and incredible desert views and I didn't understand how so few people knew what was on offer just 20 minutes from Jerusalem.  It was time to take action and tell people about the Adumim region and that's how the business was born! It's a constant challenge  finding new customers and markets. It's difficult at times to be a one-woman operation. At times, I have felt that being an English speaking immigrant, city officials haven't always taken me seriously due to our cultural differences. I just love to be outside in the desert, sharing its beauty with others and I thrive when building new activities for tourists with our local businesses."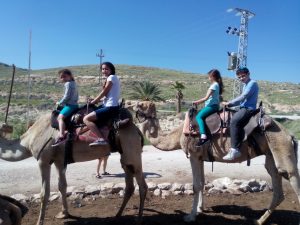 Tali Kaplinski Tarlow (originally from South Africa)
Tali made aliyah from South Africa.  She is married to Daniel and a mom of four.  Tali is the founder of Israel ScaVentures, which offers a range of hunts and dashes for players to navigate their way through streets, alleys and markets, engaging with Jerusalem's sites and stories.
"The tourism industry in Israel, is still largely dominated by men.  When I started my business 14 years ago, I found it very challenging to break in. Despite having no one to mentor or guide me, I managed to build an amazing company that I am incredibly proud of. The secret of my success is the network of women entrepreneurs, including Fun In Jerusalem's Joanna Shebson who was one of my biggest fans.  My army of female entrepreneurs supported, advised, and cheerleaded me and I attribute much of my success to them.  Today, I make a point of helping other women (and men) who are just starting out.
As my business has grown, my family has grown alongside it. When I first started out, my four children were young, and my husband took on a lot of the responsibility of caring for them, especially during the holiday season, which was my busiest time. Now my children are older.  They are very supportive and some of them have even joined my team, working as part of the Scaventures staff. Since COVID, my staff run ScaVentures day-to-day, while I do business development and I work as an employee in an awesome start-up. I love the challenge of both!"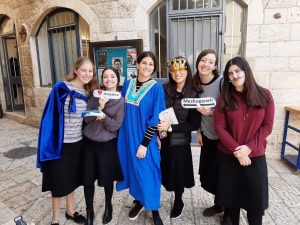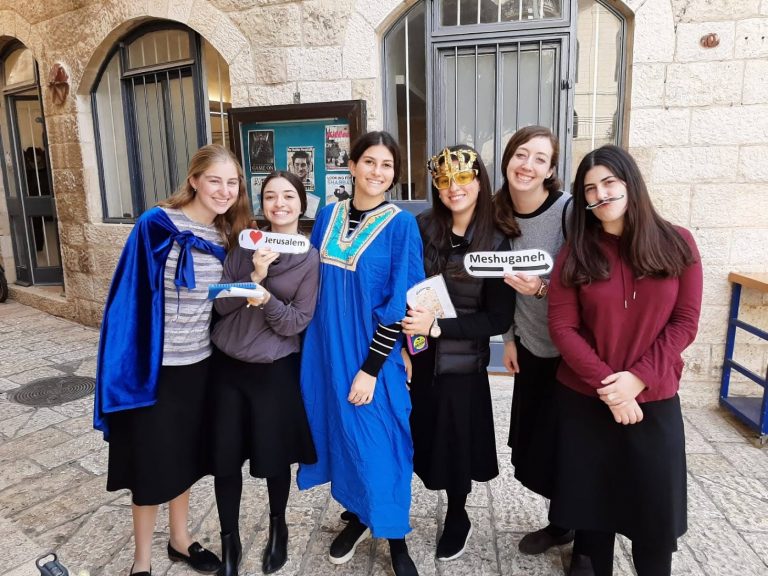 Reut Shahar (from Israel)
Reut is a multi-disciplinary artist, entrepreneur and founder of the Kakadu Art & Design Center in Moshav Zafaririm, offering unique workshops teaching visitors to create individual beautiful, functional pieces that they can enjoy for years to come.  Reut believes "Every man is born an Artist".  The art uses shapes, animals and figures from nature and is painted using the bold Kakadu colors.
"I see it as my mission to show people and families the way to self-creation. In the workshops I created, I give people the tools and abilities to express themselves in material, color and shape.  I also teach people the process of self-discovery, to look within themselves to find their inner artist.  I love helping people find their direction, their voice and originality that they can develop at any age.  
In addition, my husband Aaron and I run a "self-sufficient" farm on our property. We have a small goat pen and I make unique cheeses, yogurts, labene and more. We have a chicken coop and a vegetable garden – so we provide almost all of our food ourselves.  We've created a special tour, teaching visitors how to identify edible and medicinal plants and how to produce wonderful food from them. The first tour took place earlier this month, including tastings and recipes."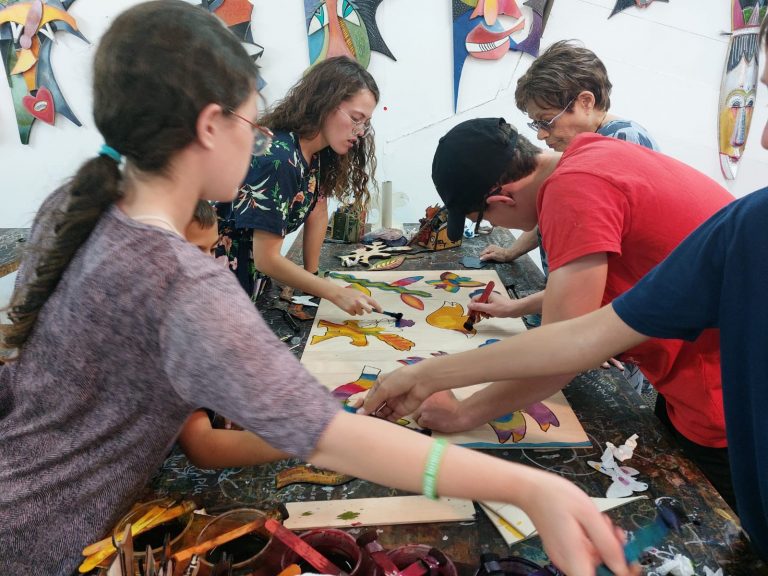 Chaya Esther Ort (originally from the USA)
Chaya Esther first laid her hands on clay at Camp Cayunga when she was 9 years old and she was instantly smitten!  She first came to Israel when she was 15 years old and fell in love with the Land and it's people. For 25 years, she focused on family life and yearned for the day that she could make Israel her home and devote herself to her art.  In 2008, her dream came true and, together with her husband, she made aliyah to Jerusalem and opened Kiyor Ceramics Studio located right by the Machane Yehuda market.
"I believe in the power of art to elevate life. When the objects we use in everyday life are infused with the beauty and spirituality of art—when we serve up a meal on an artfully painted platter, drink morning coffee from a hand-painted mug, or light the Sabbath candles in holders made from the actual earth of the Holy Land,  these physical things are infused with the spiritual energy of the land that inspired it, and from which it has literally been made.  For me, making functional art inspired by, and in  Israel, out of the clay of its sacred ground is an amazing blessing that I am so grateful for every single day. When you make or purchase something from Kiyor, no matter where you live, Israel will always be with you. And when you use it as part of daily life, you are literally bringing Israel into your life."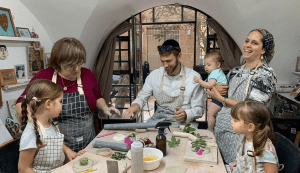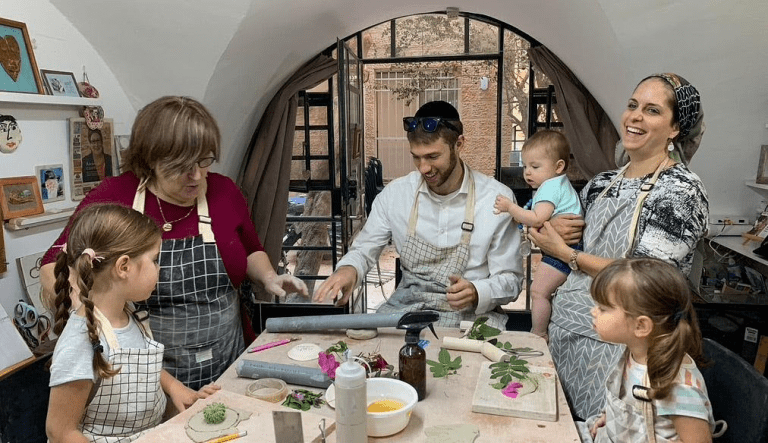 Yael Vloch (from Israel)
Yael is a Bezalel Arts School graduate.  She opened her glassblowing studio 10 years ago.
"The first thing I noticed when tourists started coming in for workshops, was the happiness, excitement and joy that being on vacation brings.  Being a woman, when working in my studio I bring a sense of peace, intimacy and patience needed for the unique technique of glassblowing, which is something I want to pass on to all my groups.  I've also noticed that my English has really improved over the years!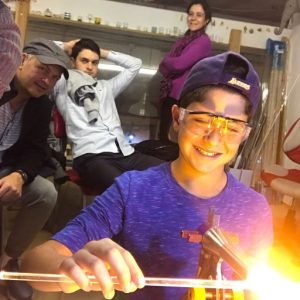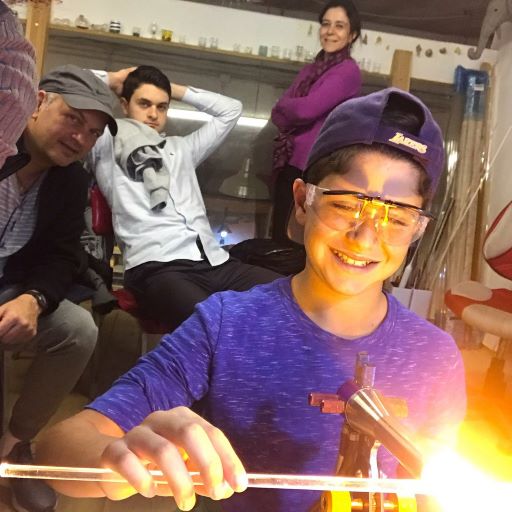 Liana Allon (from Israel)
Liana Allon was born in Jerusalem, grew up in Philadelphia and moved back to Jerusalem after finishing high school in the States. She is the founder and owner of Studio Kliché where she gives workshops creating home decor items, prints and DIY kits using a photographic technique from the 19th century called Cyanotype (also known as sun prints). After studying product design and education Liana spent a year teaching design and photography at a local high school. As part of the curriculum she taught the students about light sensitivity through the use of Cyanotype.
"I immediately fell in love with the technique and its creative potential and opened my studio about 4 years ago. Being a small business owner is not simple. I need to 'be on my toes' and make sure the products and services I offer always have a unique added value. Yet, on the other side it offers beautiful connections and inspiration from the wonderful community of creators that surrounds me. Outside my studio I work part time at the Jerusalem Science Museum as coordinator and developer of technology and 'making' activities. I live with my partner and his daughter in Jerusalem and spend my work days biking to and back from the museum, my studio, errands and workshops.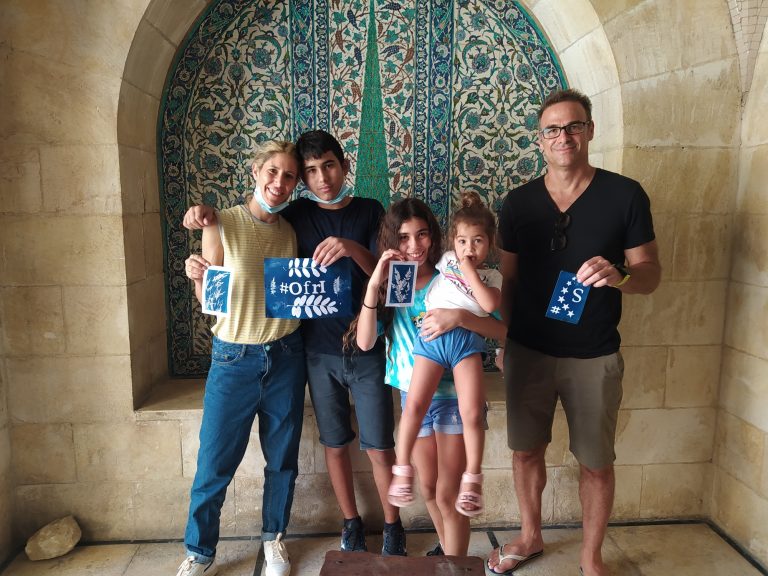 Roochie Sinai (originally from the USA)
Roochie Sinai, glass mosaic artist and owner of Rave Mosaics, where she teaches workshops using a special technique of taking broken glass and creating beautiful pieces of artwork.  Roochie guides her guests into creating their own unique pieces and provides tools, Italian glass and wood substrate.
"As a single mom, raising five children alone, for years I opted for a steady income and a very stable job including all of the benefits. This was an excellent choice for me  and I loved my job teaching English in various wonderful schools while being home as much as I could for my terrific kids. When they got older, I moved from the suburbs to Yerushalayim and reinvented myself.
Since I had a degree and experience in art, and was taught glass mosaics, I began teaching workshops in my home. This led to a residency in an educational art center which led to workshops in Hutzot Hayotzer festivals. When I was offered to rent my own studio in the magnificent Hutzot Hayotzer I grabbed the opportunity. I took early pension and began my new career as an artist and studio owner. It's bliss!"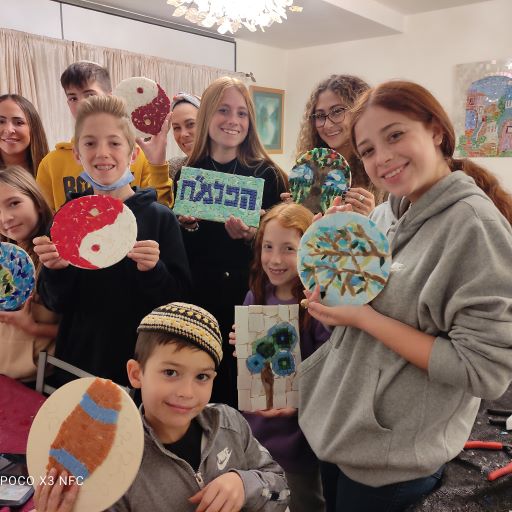 Devorah Katz (originally from the USA)
Devorah and her husband David are former founders of Pat BaMelach.  Their new venture, Meshek48 opened its doors last year. It's a fabulous new space where they run workshops, chef meals and family events and is open to artists and artisans focusing in on the worlds of food, arts and culture.
"I have long failed at work/life balance. My husband and I launched Pat BaMelach in 2015 and then our newest (ad)venture, Meshek 48 this year. And while I have a long way to go to strike that balance, I have enjoyed that my family has been part of our journey throughout. Tourism often is about telling a story, and I have loved that it's a woman's voice that is telling ours'. While there have certainly been times that I have had to fight to get a seat at the table, as our company evolved so did our resolve. Reflecting on the past 8 years in the tourism world, I know that my voice as a woman and the narrative of our company that included our family only enhanced who we were and who we continue to be."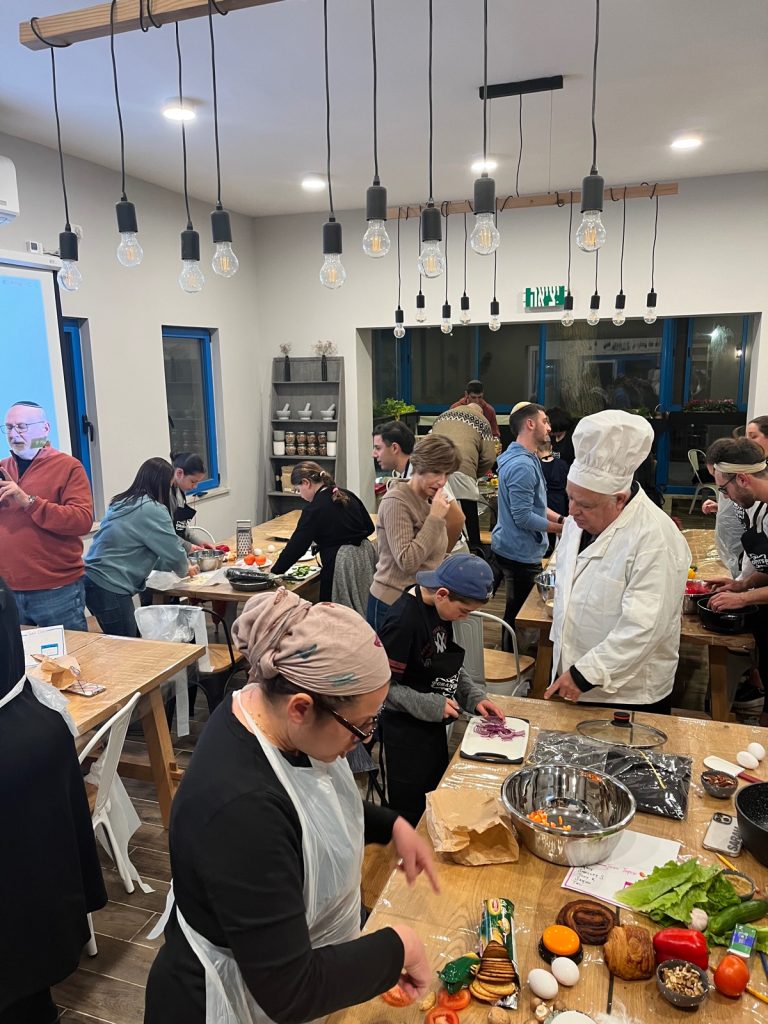 Thank you to all of the women who shared their stories with us for this blog. Fun In Jerusalem is honored to work with all of you and to connect you to tourists from all around the world.