DIY Craft Kits – everything you need to do the crafts from home
Studio Kliché is offering a variety of sun printing kits and materials to create beautiful items at home on your mirpeset or in your garden. Learn how to use cyanotype, a magical blue dye that is sensitive to the sun and offers endless possibilities.
Combine plants, drawings and everyday objects to produce unique and beautifully printed products. It is possible to order additional material or tools as needed. This is a great gift idea for all ages!
Sun Printed Tote bag – This kit includes all needed materials and instruction for creating one sun printed cotton tote bag
Sun Printed Postcards – This kit includes all needed materials and instruction for creating 5 sun printed postcards
Sun Printed Greeting Cards (Mini kit) – Kit for creating 5 sun printed greeting cards almost instantly. Kit includes 5 pre-coated cards for an intuitive, quick, and one-of-a-kind creation.
Cyanotype Pack – 500 ml – 500 ml (enough for 80 sheets of A4)
*Sun Print at Night (coming soon) – Create 5 beautiful sun printed postcards using the included UV flashlight. Now you can print when and wherever you want, no need to check the forecast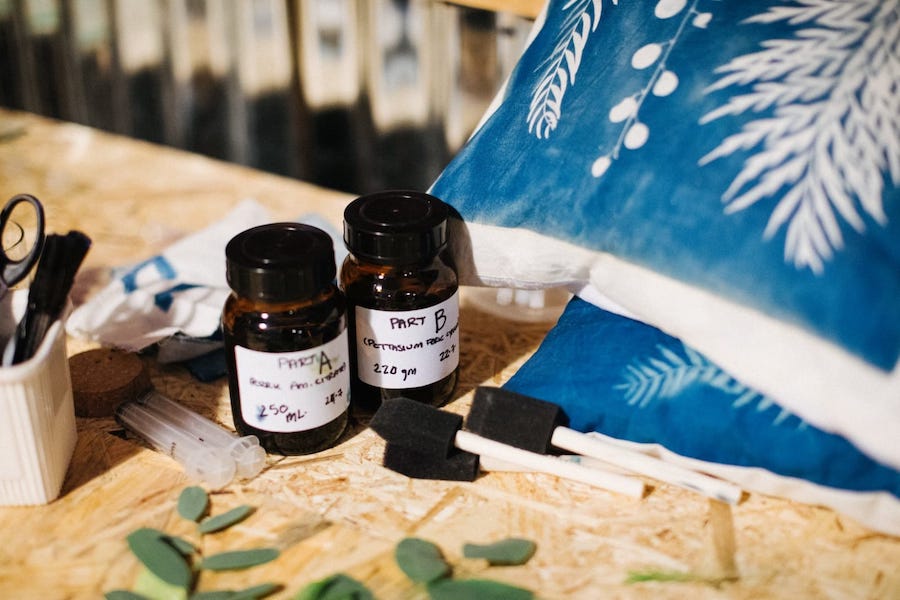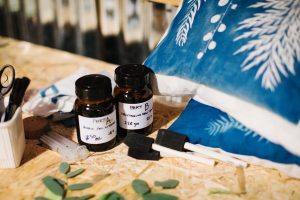 To order a craft kit, contact Liana at Studio Kliche. 
---
Come to one of Kli-Che's unique workshops and create fun and useful products while enjoying a fun family activity. The workshops take place in our studio at The Jerusalem House of Quality. This historical building is situated across from and has a stunning view of the Old City.
Workshops
Each workshop lasts 2-2.5 hours and Liana provides all the supplies. Workshops are run by Liana Allon, a product designer (Bezalel Art School graduate) and project coordinator at the Jerusalem Science Museum. Workshops up to 15 people.
No previous experience needed
Sun Printing
Cyanotype is a photographic printing process that produces a cyan-blue print and was used by engineers well into the 20th century to copy technical drawings ('blueprints'). Learn to use this fascinating technique to create unique textile products or on a series of prints on quality paper. Each participant will design and create their own unique sun prints using plants, hand drawings on clear slides, photos, negatives or other everyday objects. Ages 5 and up welcome (under age 14 must be accompanied by an adult)
Candle Making Workshop
Come create high quality candles – each participant creates their own candles either in a glass jar or a mold.
We learn how to combine plants, colors and scents into the candle. Ages 5 and up welcome (under age 14 must be accompanied by an adult)
Cement Planter Workshop
Learn about the useful characteristics of concrete and a variety of ways it can be used. Each participant will build their own mold, and create a beautiful planter from the casting stage and until the finishing touch (includes a succulent plant). Ages 14 and up
Groups and Special Occasions
Book in advance for larger groups or to have a workshop at your event or venue (perfect for bar/bat mitzvah, birthdays, family gatherings and other celebrations)