Entertaining kids in the summer is a full time job so we are lucky that Jerusalem has some of the best museums in the country.  We reached out to our favorite Museum Expert, Nachliel Selavan and asked him what families can do this summer in our local museums.
Nachliel agreed to write a guest post and we jumped at the chance.
Before he begins let me tell you a little about Nachliel also known as the "Museum Guy". Nachliel Selavan, works with museums around the world and is now based in Jerusalem. He runs in person and zoom tours for all sorts of groups but has a special knack for entertaining kids and families. His tour topics are always timely and the tours are interactive. Find him on www.museumtours.co.il and social media platforms.
Book a tour with Nachliel this summer!
Now let's get back to the blog post…
Museums that will provide your family with lots of fun and learning
By: Nachliel Selavan
I know you might think "Museums are boring" – lots of old masterpieces, modern art, or ancient archaeology. An adult lecture or rainy day, not a kid's summer dream!
Well, not on my watch! After all, I'm the Museum Guy, and I get kids' attention in the classroom, in camp, and outdoors- I make the museum come alive for them.
Museums are the perfect place for a family activity, escape room, scavenger hunt and to learn a lot without noticing! And I don't just mean the Biblical Museum of Natural History – an absolute must! I mean museums with art and archaeology as well.
My goal here is to help you visit five major museums where you can spend 2 hours or more with your kids (so not Yad Vashem or the Rockefeller). I will also add some basic info about a few additional museums and sites you may enjoy.
Israel's Crown Jewel – our first National Museum, founded in 1965, before the Six Day War. That alone is a great story! It was Mayor Teddy Kollek's vision of putting Israel culturally on the world's map; and it worked!
During the summer in August the Israel Museum will be open on Sundays as well.
An encyclopedic museum with multiple exhibitions and shows per year, massive archives and research centers – it is truly world-class. It is also so large you can get lost – which is where a guide can be very helpful – and the museum offers many free tours. But that's all interesting for adults.
What about kids and family time that doesn't involve just looking together at ancient rocks or French paintings? How do we get the kids engaged?
As a museum guide, my first piece of advice is to plan your visit. Coming to a large museum with a family is tricky enough –  you want to have a plan of action. Lucky for you, the museum is set up just for that!
Some of the galleries have pamphlets for kids, selfie challenges, and drawing activities. Ask at the information desk.
An Israel Museum app offers some virtual and audio guided tours; best for teenagers and up.
The Children and Youth Wing offers numerous activities. Some require registration or purchasing a kit, some are available on certain days, some are only in Hebrew. For example, the Archaeological Mound that teaches kids about excavations; the Recycle Room; and the new Scavenger Hunt. The Children's Art Library offers readings and its own activities.
Scavenger hunt? Bring it on! Teddy Kollek's Code (in Hebrew) connects kids to the story of the museum's founding, and I have seen kids roaming the galleries and having a good time with it. There is an extra charge for the kit.
Recycling Workshop – Definitely one of my own personal fun childhood memories. In the Recycling Workshop, you can make anything from plastic, metal and wooden parts, rummage through piles of colorful buttons, and take your creations home. Open on Tuesdays, it has an extra charge of 15-20 NIS per child.
Food Tip: Due to Covid restrictions, the cafeterias and restaurants sell drinks, pastries and prepared sandwiches but there are no sit down options.
Located across the street from the Israel Museum is another one of Jerusalem's treasures: The Bible Lands Museum (BLMJ). This museum is small, but its collections are unique, and the quality of some of its artifacts even surpasses that of the British Museum's collections.
The new exhibition and summer activity is called Early Birds. It opened on July 27.
If you visit the museum, you will see bird footprints running through the galleries. This is part of the special exhibition, which includes:
Build-a-bird games;
Impressive bird stamps inspired by ancient coins
Fun2C – a VR-AR experience
Mosaic puzzles
Bird costume corner
Self-guided activities decoding bird symbols in ancient hieroglyphs.
The permanent 20-section main exhibition and others can be a bit tricky to navigate without a guide (they have audio guides and VR activities). Their special exhibitions like Babylon are always fantastic. Their warm and lovely staff will be happy to help you with children's programming – just ask!
Summer activities for families and kids ages 5-10 are already running, and some will begin in August.
The Science museum is, without a doubt, a great choice for family activities. With over a dozen permanent and temporary exhibitions for adults, kids and the whole family, they tackle subjects such as:
How will humanity sustain itself with its exponential population growth?
Why don't buildings fall?
Human reflexes & mechanics
Ways in which science, math and computers impact and improve our lives.
An overlooked and underrated treasure of Jerusalem – I highly recommend this gem. The Museum of Islamic Art is as important as it is fun. It was founded by Vera Bryce Salomons in 1974, a Jewish woman with vision, and patron of culture and art.
This museum has great educational value that is key to understanding the Middle East and the Islamic culture, which shaped a lot of Judaism, and the Middle East. They offer art workshops and activities for all ages, as well as educational enrichment for school teachers.
Activities for families and kids include:
calligraphy
paper-folding
create a traditional Islamic garden
kaking tiles and mats
making personal clocks with arabesque and floral designs
decorating musical instruments
The museum has three stories of permanent exhibitions which go through the different periods of Islam throughout the world, a fourth floor with activity rooms and downstairs – where the magic happens.
There are two temporary exhibitions which are the hype of the summer in the museum. Let's get into it.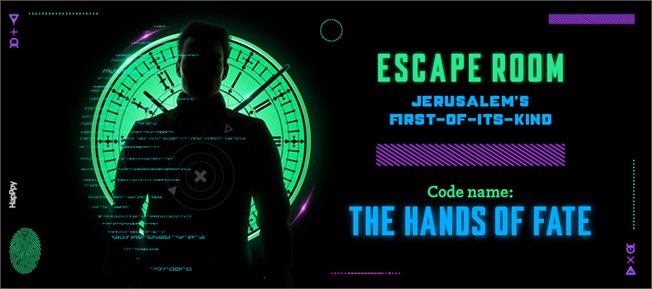 Code name: Hands of Fate – Escape Room
Based on a true story of a museum heist, this escape room takes place in the museum's exquisite collection The Secret of Watches. The collection itself is fascinating with many golden, gem-studded and enamel-laid pocket watches with tiny figures and scenes inside them. And this extra activity for kids will really make you tick. The escape room is available for younger and older kids. You need to book this activity.
Coffee, East and West
This fun exhibition is about how coffee shaped civilization. I visited there yesterday, and it was very enjoyable. It includes the history of coffee in the East and the West, documentation of coffee, how it's made, costumes, pictures, Jewish responsa and more. If you like fancy coffee mugs, look for the handmade sand mugs from Dubai. If you like nostalgia, you'll find a 1956 Olympic game coffee machine. This exhibition should not be missed!
To end things on a high note – here is something really exciting you can do in Jerusalem's Old City: The Tower of David Museum. This is the one museum on this list that is mostly outdoors.
The Hype of the summer is the Towers in the Air – Climbing Rope Adventure.
To quote their site: "A historical and hysterical summer experience – the first of its kind in Jerusalem: A Challenging Rope Course Adventure at the Tower of David in Jerusalem!"
This activity is good for ages 9 and up, and as with everything in these quasi-Covid days, book in advance and don't just show up.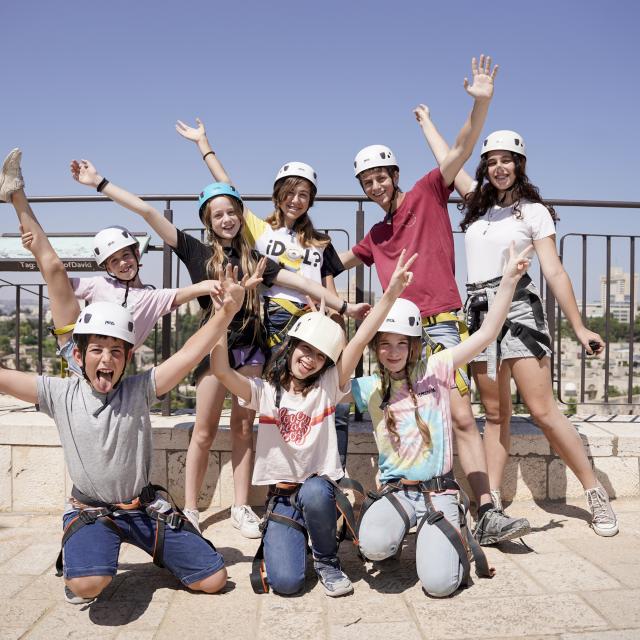 The museum itself has rampart walks and tours, musical and other exhibitions, light-and-sound experiences at night, and other things going on, so see what works for your family.
This is an activity you can include in your visit to the Old City and the Kotel, Mamilla Mall, or the new Teddy Park across the street. Teddy Park has interactive dancing fountains, and is a great place for a picnic. As always – best to plan your trip.
A few extra museum tips for this summer…
If you want to visit all of Jerusalem's many historic museums, it will take several weeks to visit.
Among them are the…
U. Nahon Museum of Italian Jewish Art in town on Hillel St.
The Museum of Underground Prisoners near the Russian Compound
Mount Zion Trench which just opened, and you can call the Mount Zion Hotel to ask to see the cable car that is connected to it.
New Herzl Museum on Mt. Herzl
The Hebrew Music Museum in Kikar haMusica in town
If you live in Jerusalem make sure to sign up for the Yerushalmi Card which can get you discounts for most of the museum entrances.
Thank you Nachliel for this informative post. The most important message of all is "Enjoy Jerusalem" & feel free to contact Nachliel directly if you would like him to lead your family on a fun tour & bring the museum alive.