Sukkot is a very popular time for families to visit Jerusalem. The city comes alive with tourists and locals enjoying unique experiences in Jerusalem.
With festivals, special tours, live concerts and a variety of fun activities, there is something for everyone.
City Festivals & Special Events
Bring all the family to cool off in the new Ice Skating Rink at First Station. It's one of the most advanced ice staking facilities in Israel, using real ice, over an area of about 700 square meters.
The Ein Yael Harvest Festival has a whole range of special activities for families connected to Sukkot this hol hamoed. Gather in the summer crops, preserve the sweet Fall fruits, weave mats using Lulav leaves and prepare for the winter rains.  There are special talks at the beehive and archeological theatrical performances too. And a play corner for younger kids with an on-site sukkah.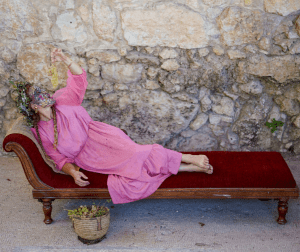 Now in its 12th year, the Derech Beit Lechem Festival runs from Yehuda Street, to Miriam Hachashnonait Street.  This year's theme is Shevet Achim Gam Yachad – or Unity. There will be street performers, food stalls, live music, arts and crafts and workshops for all ages.
The annual Sukkot Festival is back at Jerusalem's Gazelle Park and it's fun for all the family! Over Hol Hamoed they will be unveiling a new, interactive walking trail along the unique watering system that it the life-blood of the park.  And they even have rain-dancing workshops to get you into the spirit of the holiday!
Bikurei Shilo is hosting a family-friendly Farm Festival  over hol hamoed. Harvest grapes and make grape juice, pickle your own olives, pick and eat raspberries and corn fresh for the fields and feed and milk goats.  There's a Cowboy Corral for younger kids, with a Gymboree, games and carnival booths.  And tractor and wagon tours too (at an additional cost). There's a sukkah on site.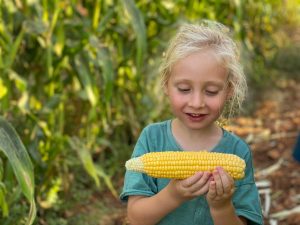 There's an Art Festival over hol hamoed in Tekoa, with guided tours of the Artist's Colony.  They'll have family-friendly workshops, a story theater, with a special show for younger kids.
The Gush Etzion Regional Council is hosting an  "Aliyah LaRegel" (Foot) Festival.  Hike in beautiful landscapes, feel the history and connect with past, present and future. There are three different tracks and different levels of difficulty. Throughout the day, in Neve Daniel, there are also FREE creative workshops, magnet photography, 360 mirrors on the Temple, an escape game, music and actors, and more!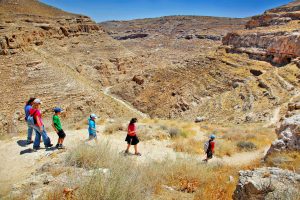 Spectacular Sukkot at the David Citadel & Mamilla Hotels – two of Jerusalem's most beautiful hotels are decorating their five Sukkot with the theme Names of Jerusalem this year.  The David Citadel Hotel has 'Eden', located on the edge of the pool, with a magical terrace offering an exciting view of the city walls and 'City of David'; & 'Jerusalem of Gold' on the hotel's rooftop, providing a panoramic view of the city. The Mamilla Hotel has two sukkahs 'Yeffe Nof,' at the Rooftop restaurant capturing the city's beauty & 'The center of the earth' at the HAPPY FISH restaurant.  Tourists and locals are invited to book reservations at Veranda and Happy Fish in advance and enjoy the special themed Sukkot.
Concerts
Mordechai Shapiro, Akiva Turgeman and Ishay Ribo will be performing together at Binyanei HaUma on Wednesday October 4, at Hatzalah's annual Chol Hamoed fundraiser. Enjoy a night of great Jewish music and help United Hatzalah save lives in Israel.  Doors open 6.45pm, concert 7.45pm. Tickets start at $120.
Yehuda, of the Moshav Band (who has just made Aliyah!) will be performing together with The Solomon Brothers at a special Sukkot show, on Wednesday, October 4 at Heichal Shlomo.  They will be playing their signature Folk Rock, with a combination of original material and covers, and some Indi Rock. In partnership with Nefesh B'Nefesh.  Doors open 8pm, Concert 9pm.  Tickets are 150 NIS.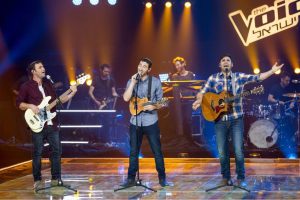 Some of Israel's best loved singers are performing over hol hamoed.  Join Eden Ben Zaken, Avi Avrami, Eden Meiri and Maya Dadon for a night to remember, under the stars, at Sultan's Pool. Thursday October 5, from 8.30pm. Tickets are available from Bimot and start at 179 NIS.
New this Year!
Red Bus City Tours are a new addition to the tourism scene in Jerusalem! Whether you are a history buff, a culture lover, or simply seeking a thrilling adventure, a Red Bus City Tour is the perfect way to discover the hidden gems that Jerusalem has to offer. Tickets are available for 24, 48, or 72 hours, giving you the flexibility to hop on and off the bus at your leisure.
The Unknown Jerusalem is a humorous, one-hour tour at the Jerusalem House of Quality.  It's a fascinating one-hour tour through surprising legends, revealing unknown history and humorous art.  You'll learn about the city's unique arts and crafts communities.  It includes a stop at a panoramic lookout of the Old City walls and Yemin Moshe from the building's rooftop.
Sukkot is a wonderful time of year to visit the Dead Sea.  The weather's cooled off just enough to enjoy a self-guided bike ride to the salt diamonds, or take a trail ride to some magical viewpoints among the date groves and along the sea shore with Dead Sea Bikes.
Take a behind the scenes factory tour of the Hollander Distillery, just in time for Simchat Torah!  It's a unique family run distillery just outside of Jerusalem in Beit Meir, which specializes in the production of beverages using alcoholic fruit distillation – natural liqueurs from fruits, and Alcohol (schnaps) based on various fruits. Learn how the liquor, schnaps and brandy is made and hear the family's amazing story.  Ask about their non-alcohoic beverages for kids too!
Caliber 3, the leading Counter Terror, Defense & Security Training Academy in Israel and the world. They have some awesome Commando Tourism packages – for a real "only-in-Israel" experience including an IDF Shooting Adventure, 360 Shoot House, Krav Maga and an Urban Combat Simulator.  Ask them about their VIP packages too.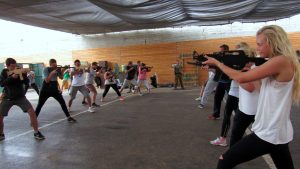 There's a new Food Forest at Nachal Tzufit in Gush Etzion.  It's a collection of diverse edible plants that attempt to mimic eco-systems and patterns found in nature. There'll be family-friendly, holiday-related workshops, guided tours of the forest and musical performances.  Gush Etzion Tourism, in partnership with KKL is holding a familiarization day for families on the first day of hol hamoed.
Come and see the Mishkan come to life this Sukkot at Ancient Shilo! Enjoy an interactive, full-scale exhibition of the Mishkan's furnishings, Try on the Cohanim's garments, play the Levites' instruments and participate in a hands-on workshop making harps, breastplates and incense. They've even got a red-heifer and VR goggles for a tour inside of the Mishkan!  They'll be street actors and guided tours and there's a picnic site and family-sized sukkah.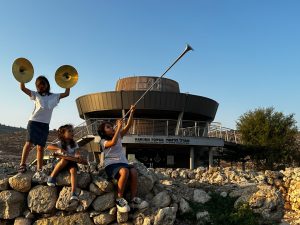 Theatron, the new five-star boutique hotel just across from the Jerusalem Theater in Talbieh, has a SUKKAH POP UP – nightly live musical entertainment, throughout hol hamoed. Experience Greek Night, an 80's Throwback, a Taste of the Levant, a delightful Wine Tasting event, and an evening of Jazz where you are invited to meet The Management. Be among the first to dine in the brand-new Sukkah, and enjoy a delicious buffet meat dinner crafted by the hotel's talented in-house chef, incorporating each evening's theme. Reservations are required: [email protected]
If you're looking for something fun and meaningful to do with your kids over Hol Hamoed, go visit Torah Live's new production studio in Jerusalem. You'll get a behind-the-scenes look at filmmaking with a tour of Torah Live's new multimedia studio led by Founder & CEO, Rabbi Dan Roth. Rabbi Dovid Orlofsky, voice of the loveable Rabbi Siddur, will be there too!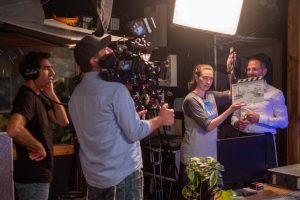 A Pop-Up Art Sale is being held at Emmanuelle's – Maison d'Art, 14 Emek Refaim over hol hamoed Sukkot.  It includes the works of Jerusalem's exciting emerging artists Raya Bruckenthal, Meydad Eliyahu, Matan Sacofsky, and Yael Serlin who have all hand-picked works for sale together with curator Merav Hamburger.  It's on Wednesday, October 4, from 7.30p.m. & Thursday October 5, from 10am-10pm.
Sukkot Tours
Yvel invites you to come and enjoy a special tour of the world-renowned jewelry factory. Explore the Megemaria Craft Center with artistry demonstrations. Enjoy guided tours in English of the Jewelry School and Yvel Design Center.  You'll end the tour at at the factory store where you can select the perfect holiday gift for yourself or a loved one. You'll need to reserve your tour ahead of time.
Nachliel Selavan, affectionately known as "The Museum Guy" is offering a special holiday-themed tours at the Israel Museum.  His Tishrei Tour examines Rosh Hashanah, Yom Kippur, Sukkot and Simchat Torah through the Jewish Art and Archaeology and exploring the connections between the agriculture, history and Torah-readings of this special holiday-rich period of time. And his "Fit for the King's Table" focuses on Feasts, against the backdrop of an exclusive, new exhibition in the Museum. Nachliel's tours are incredibly popular so sign up early to avoid missing out!
See an amazing exhibit of different types of Ram's horns (shofars) and an incredible array of Biblical animals, on a family tour at the Biblical Museum of Natural History! Enjoy hands-on encounters with all kinds of live exotic creatures, and experience many fascinating exhibits, including the new Art of the Arks exhibit, in a guided tour through the animal world of the Bible.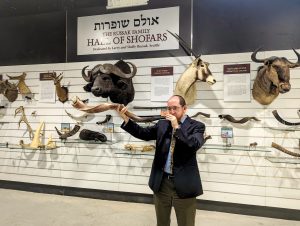 Sukkot is the perfect time of year to take a Hebron Tour. It's a unique, fun and inspirational tour for all ages, visiting Kever Rachel and Ma'arat HaMachpela – two of the top 10 most visited sites in Israel and a wonderful way to connect to our Jewish history and heritage.
Throughout hol hamoed, you can enjoy an ancient experience at Eretz Bereshit (Genesis Land) when you are greeted by Eliezer and brought into the tent of Avraham. Take a family tour and be a part of the Biblical story when you ride a camel to the tent and partake in some light refreshments from the couple known for their hospitality.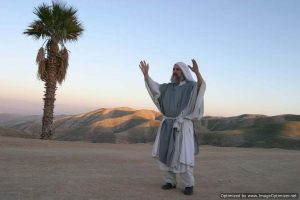 Sukkot Activities
Sukkot is all about celebrating the great outdoors.  And there's so much on offer in-and-around Jerusalem!  You can take an off-road Jeep tour of the Judean Mountains, go ATVing in the Gush, experience an adrenaline rush at the Laser Tag Pop Up just outside Latrun, or take EZ Raiders on a Smart Tour of the city.  It's also the perfect time of year to take a trail-ride on horseback, or a Scavenger Hunt or Dash through the streets and alleyways of Jerusalem.  And there are  an incredible array of family-friendly activities on offer at Tour Adumim!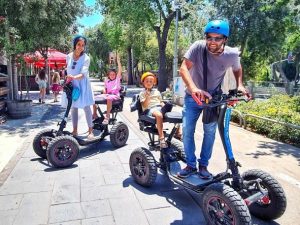 There are so many great sukkot activities that we can't even possibly name them all. Keep an eye out for special Sukkot themed events. Choose from our featured art workshops, food workshops, adventure activities or experiential tours.
Where to eat?
Veranda 
If you are looking for a delicious and unique place to go out for dinner in Jerusalem this is it! The Veranda at the David Citadel Hotel is a delicious chef's. The meat is Rav Rubin and it's Shmitta LeChumra. Menu & Reservations here.
Happy Fish 
Have you heard of HAPPY FISH in Mamilla? It's a fresh-fish and pasta gourmet chef restaurant, using the city's freshest produce.  Seasonal fish include Barramundi, Sea bream, Salmon, Red drum, Sea bass & Bass. Enjoy a magnificent meal with your family on the Mediterranean terrace above the Mamilla Avenue.  Open for lunch and dinner.  Book here.
PHOTO CREDIT – Theatron Jerusalem Hotel & Spa MGallery Collection