Updated January 2022
Meet Tali Tarlow, founder of Israel ScaVentures and hear about her new book that lets you take control of your scavenger hunt. Self Guided Scavenger Hunts.  Recorded for BITE SIZE with Yoni Pollak.
Listen to the Interview – 

About her new book "Jerusalem Experiential Guidebook by Israel ScaVentures"
This guide gives families a fun and exciting way of connecting to Jerusalem – any time, at any pace, at their convenience.
Tali gives you the clues, the locations and everything you need to go on your own scavenger hunt.
5 different experiential tours are detailed in the book.
Har Herzl – Israel's National Cemetery & memorial site, is one of the books most fascinating tours. This tour is steeped with history, stories and meaning – perfect for a family that has "seen it all" and is looking for something different to do!
Old City – a tour that is very different then the regular Old City ScaVenture tour. It starts out on Mount Zion and you will begin to explore from there.
Yemin Moshe – a gorgeous area where you will learn about the famous windmill and the story of it being the first neighborhood outside the walls of the Old City.
ScaVenture Game in the Shuk (Machane Yehuda).
And exclusive to this is book is the Train Game – located at the First Station. This is a unique game that involves a board that you use to identify clues and solve missions. And while at the First Station you can always enjoy the restaurants and shops and great atmosphere.
The book costs 200 NIS with free delivery in Jerusalem.
It's a great bar/bat mitzvah gift – or souvenir!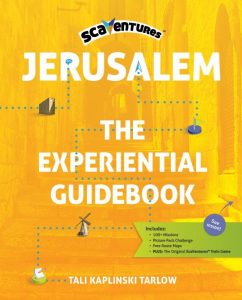 Purchase the book online – Buy it or Gift it!
Where to purchase the book in person?
The Smart Tours Shop in the First Station, Jerusalem.
At the Shuk – at the Powerhouse Coffee Works Shop on Agrippas Street.
In the Old City – at Shorashim Gift Store.
For more info, contact Tali at scavenger@funinjerusalem.com