Play The Game in Israel!
Jerusalem Scavenger Hunts – Looking for an interactive and fun way to learn about the history of the Old City of Jerusalem? A Jerusalem Old City Scavenger Hunt is the answer. Play this fun game with your whole family, race against other teams as you solve riddles and clues that take you to your next destination.
Explore the Old City and learn about its history and discover on route the untold secrets of the Jewish Quarter. The tales of inspiring people, ancient places and tremendous events will come to life as you explore your route with maps and mission packs in hand.
Participants are divided into small groups and each person is given a role – photographer, scribe, guide and more.
The hunt is available in English, Hebrew, French and Spanish.
Old City Dash
What does the Temple Mount lookout, the only mosque in the Jewish Quarter, and a golden Menorah door all have in common? They are all stations on the Old City Dash.
Bar / Bat Mitzvas and Birthday Parties
Participate in an adventure of navigation and discover your place in Jewish History. Bar/Bat Mitzvah participants are awarded with Bar/Bat Mitzvah certificate of participation. For Bar/Bat Mitzvah celebrants who love to learn and to lead, they offer a Bar/Bat Mitzvah program where participants learn to co-guide their Scavenger Hunt.
Custom ScaVentures:
• A four-day Israel Scavenger Hunt
• Special birthday or anniversary Scavenger Hunt surprises
• Corporate fun days
• Proposal Scavenger Hunts
• Singles events Scavenger Hunt (and we even celebrated a wedding from one of those!)
• Bloggers Scavenger Hunts
Tell them about your occasion – they'll will create your dream event!
The Experiential Guidebook to Jerusalem – a personal self guided tour of some of Jerusalem's most popular historic sites with games & missions that the whole family can enjoy. A great souvenir or gift.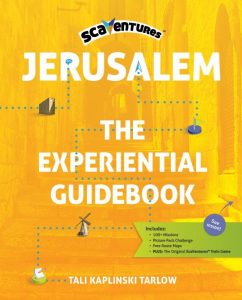 Jerusalem Scavenger Hunts are available in the Old City, Nachlaot, Tzfat and now Gush Etzion (in jeeps or private cars).